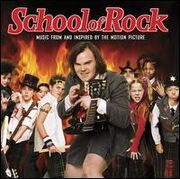 The School of Rock Soundtrack is a soundtrack album of music and quotes from the hit film of the same name starring the actor Jack Black.
The film's director Richard Linklater scouted the country for talented 10-year-old musicians to play the rock-and-roll music that features on the soundtrack and in the film.
The soundtrack was nominated for the Grammy Awards of 2004 for Best Compilation Soundtrack Album for a Motion Picture, Television or Other Visual Media.
1. "School of Rock" - School of Rock (4:14)
2. "Your Head and Your Mind and Your Brain" - Jack Black (0:36) *
3. "Substitute" - The Who (3:47)
4. "Fight" - No Vacancy (2:35)
5. "Touch Me" - The Doors (3:10)
6. "I Pledge Allegiance to the Band..." - Jack Black (0:49) *
7. "Sunshine of Your Love" - Cream (4:10)
8. "Immigrant Song" - Led Zeppelin (2:23)
9. "Set You Free" - The Black Keys (2:44)
10. "Edge of Seventeen" - Stevie Nicks (5:26)
11. "Heal Me, I'm Heartsick" - No Vacancy (4:46)
12. "Growing On Me" - The Darkness (3:29)
13. "Ballrooms of Mars" - T. Rex (4:08)
14. "Those Who Can't Do..." - Jack Black (0:41) *
15. "My Brain Is Hanging Upside Down (Bonzo Goes to Bitburg)" - The Ramones (3:53)
16. "T.V. Eye" - Wylde Rattz, covering Iggy and the Stooges (5:22)
17. "It's a Long Way to the Top (If You Wanna Rock 'n' Roll)" - School Of Rock, covering AC/DC (5:51)

The tracks of Jack Black are selections of dialogue from the film.
Ad blocker interference detected!
Wikia is a free-to-use site that makes money from advertising. We have a modified experience for viewers using ad blockers

Wikia is not accessible if you've made further modifications. Remove the custom ad blocker rule(s) and the page will load as expected.