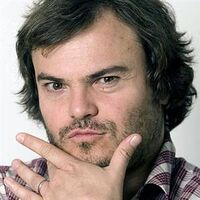 Jack Black (born August 28, 1969) is an American actor, comedian and musician. He is also known as The Fat Man who squashed Ned Schneebly.
He makes up one half of the comedy and satirical rock duo Tenacious D. The group has seven albums, as well as a television series and a film. His acting career is extensive, starring primarily as bumbling, cocky, but internally self-conscious outsiders in comedy films.
He is best known on this wiki for portraying Dewey Finn in School of Rock.
External Links
Edit