Freddy Jones

Nickname
Spazzy McGee
Age
10
Occupation
Student
Band Job
Drummer
Portrayer
Kevin Clark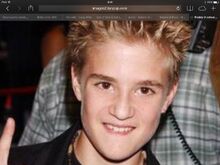 Freddy "Spazzy McGee" Jones is student at Horace Green Prep School and is a member of the class that that Dewey Finn starts teaching as a substitute teacher under the name of Ned Schneebly. He was a percussionist of the school music class (he can't play any other instruments), and was made the drummer of Dewey's School of Rock band.
Freddy is somewhat more rebellious than the other students, and dislikes school. Despite this, he is still smart and seemingly well-adjusted. He once mentioned that he likes to burn things for fun. When Dewey made the class his rock band as a class project, Freddy thought they were going to just goof off, but obviously had no objections and was glad they were going to do that every day.
While teaching his students/band rock music, Dewey has to pay extra attention to bad influences on the children, particularly Freddy, who was daring enough to hang out with other rockers in their van playing cards.
After Dewey is exposed as a fraud, while the other students had mixed feelings, Freddy had no regrets that they had a "three week vacation" which he thought was a lot better than school. After the class agreed that they liked their false teacher and wanted to perform in the concert after their work, Freddy and Lawrence arrived at Dewey's place and convinced him to rejoin and perform with the class.
The band arrived at the Battle of the Bands concert and performed spectacularly. Despite not winning, they earned the audience's, as well as the class parents', cheers for an encore.